Nourishing Change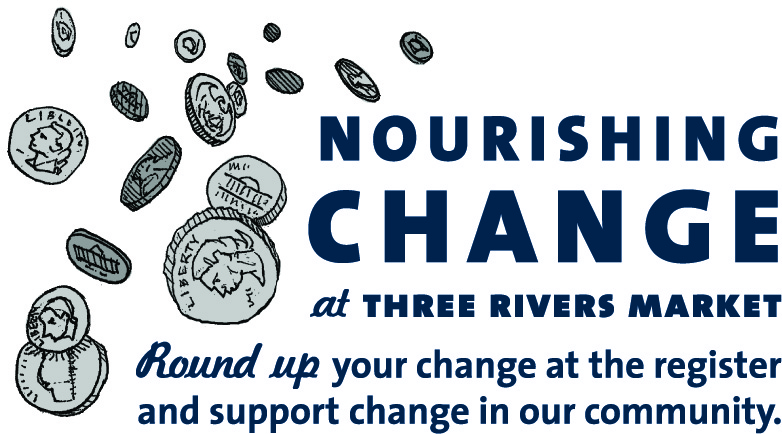 Nourishing Change is our monthly donation program through which we accept donations at our registers on behalf of a selected organization or project. Since the program's start in April 2012, we've raised over $439,697.26 for 89 organizations.
THIS MONTH'S recipient: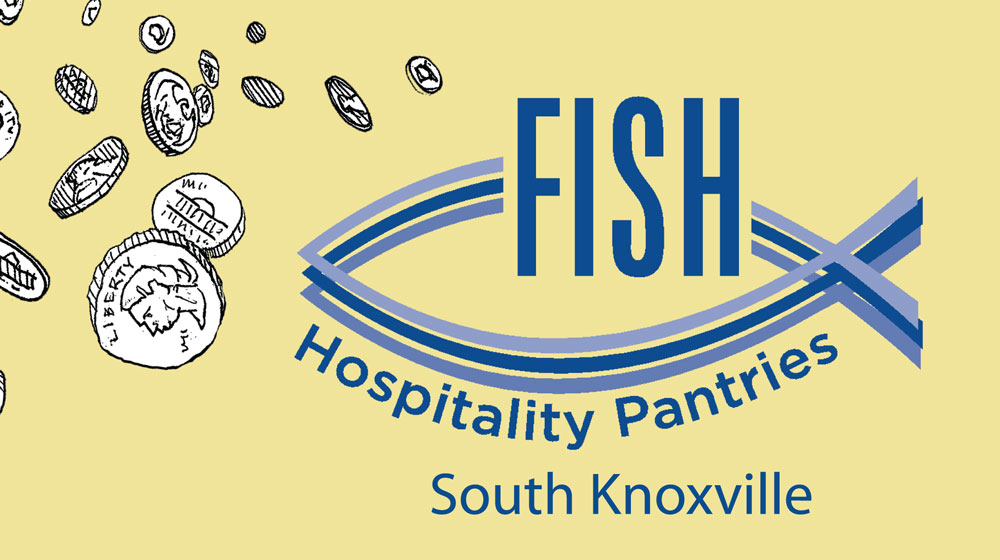 We will be collecting change in November to give food to the hungry through our Nourishing Change program.
In partnership with FISH Hospitality Pantries, our goal is to raise $7,000 to provide 3 days' worth of food from their South Knoxville pantry for 1,400 families.
The South Knoxville FISH Hospitality Pantry currently provides food packages to more than 2,000 families each month in a non-judgmental way that respects their dignity and privacy. Diversity is celebrated at the Pantry and everyone is welcomed.
Click here 

t

o find out how to become a Nourishing Change recipient!
Click Here to see recipients for July-December 2019!
NOURISHING CHANGE RECIPIENTS & donation totals
| | | |
| --- | --- | --- |
| Month | Organization | Amount Raised |
| October 2019 | Knoxville Family Justice Center | $7,406.35 |
| September 2019 | Friends of Seven Islands | $7,372.50 |
| August 2019 | Centro Hispano de East Tennessee | $7,248.03 |
| July 2019 | The Love Kitchen | $7,476.07 |
| June 2019 | The Hospice Promise Foundation – UT Hospice Services | $6,623.27 |
| May 2019 | The Great Smoky Mountains Institute at Tremont | $7,398.21 |
| April 2019 | The Blossom Center for Childhood Excellence | $7,279.05 (including $206 from marigold seed sales) |
| March 2019 | The Humane Society of East Tennessee | $7,309.96 |
| February 2019 | Shora Foundation | $6,388.78 |
| January 2019 | Smokey's Pantry | $6,457.31 |
| December 2018 | Remote Area Medical | $7,576.69 |
| November 2018 | Pellissippi Foundation | $6,401.00 |
| October 2018 | Harvey Broome Group of the Sierra Club | $6,672.13 |
| September 2018 | FISH Northwest Hospitality Food Pantry | $6,387.04 |
| August 2018 | Knox County Schools Clothing Center | $6,512.52 |
| July 2018 | Feral Feline Friends of East Tennessee | $7,138.79 |
| June 2018 | BUSAR | $6,462.86 |
| May 2018 | Knox PAWS | $7,648.02 |
| April 2018 | Noah's ARC Animal Rescue and Adoption | $8,077.95 (plus $311.03 in additional donations and a home for Rebel the Dog!) |
| March 2018 | CASA of East Tennessee | $7,336.92 |
| February 2018 | Knox CAC Pillow Project | $5,955.43 |
| January 2018 | Faith N Friends Horse Sanctuary & Rescue | $6,200.85 |
| December 2017 | Smoky Mountain Raptor Center | $6,539.22 (plus $805.00 in additional donations) |
| November 2017 | Cherokee Health Systems | $6,303.49 |
| October 2017 | Trees Knoxville | $6,386.05 |
| September 2017 | FISH Hospitality Pantries | $6,457.89 |
| August 2017 | Knoxville-Knox County Community Action Committee | $7,162.05 |
| July 2017 | Pantry for Feeding Pets | $6,508.74 |
| June 2017 | The Pellissippi Pantry | $6,181.56 |
| May 2017 | Belly Rubs Basset Rescue | $6,265.37 |
| April 2017 | Narrow Ridge Earth Literacy Center | $6,103.13 |
| March 2017 | Centro Hispano de East TN | $6,757.72 |
| February 2017 | The Humane Society of East TN | $6,185.09 |
| January 2017 | The Clothing Center | $5,968.06 |
| December 2016 | The Manor at Northgate Terrace | $5,830.55 |
| November 2016 | Humane Society of the TN Valley | $6,015.56 |
| October 2016 | Smokey's Pantry | $5,513.48 |
| September 2016 | Go North Animal Transport Collective | $5,554.60 |
| August 2016 | Knoxville Permaculture Guild | $5,544.26 |
| July 2016 | Pantry for Feeding Pets | $5,803.69 |
| June 2016 | Sierra Club – Inspiring Connections Outdoors | $5,771.00 |
| May 2016 | Greyhound Pets of America – TN Chapter | $6,267.22 |
| April 2016 | CAC Green Thumb Community Garden Program | $6,614.71 |
| March 2016 | Nourish Knoxville | $6,777.69 |
| February 2016 | The Stray Connection | $5,825.02 |
| January 2016 | Food In Service of Humanity | $5,958.23 |
| December 2015 | Family Promise of Knoxville | $5,976.11 |
| November 2015 | Humane Society of East Tennessee | $5,947.79 |
| October 2015 | Pantry for Feeding Pets | $6,355.34 |
| September 2015 | Cancer Support Community of East TN | $5,646.23 |
| August 2015 | Big Brothers Big Sisters of East TN | $5,976.56 |
| July 2015 | Ladies of Charity Summer Lunch Program | $5,634.24 |
| June 2015 | Project LIVE | $5,469.24 |
| May 2015 | Go North Animal Transport | $5,423.21 |
| April 2015 | Mobile Meals | $4,805.36 |
| March 2015 | Friends of Literacy | $4,650.25 |
| February 2015 | The Manor at Northgate Terrace | $3,803.70 |
| January 2015 | FISH Hospitality Delivery Pantry | $3,845.85 |
| December 2014 | Cerebral Palsy Center | $3,806.84 |
| November 2014 | UUNIK Academy | $3,914.46 |
| October 2014 | East Knoxville FISH Hospitality Pantry | $4,298.62 |
| September 2014 | Greyhound Pets of America: TN Chapter | $3,994.52 |
| August 2014 | Volunteer Ministry Center | $3,495.16 |
| July 2014 | South Knoxville's FISH Pantry | $2,838.81 |
| June 2014 | Noah's Arc | $3,538.53 |
| May 2014 | Boys and Girls Club of the Tennessee Valley | $3,389.94 |
| April 2014 | Helping Hands Food Pantry | $3,326.33 |
| March 2014 | Discover Life in America | $2,969.10 |
| February 2014 | Remote Area Medical | $2,954.11 |
| January 2014 | The Manor at Northgate Terrace | $2,578.19 |
| December 2013 | InterFaith Health Clinic | $2,716.14 |
| November 2013 | East TN Technology Access Center | $2,211.10 |
| October 2013 | FISH Hospitality Pantries | $2,658.67 |
| September 2013 | Friends of Literacy | $2,422.45 |
| August 2013 | Knox County Mobile Meals | $3,059.36 |
| July 2013 | YWCA Emergency Food Pantry | $1,921.10 |
| June 2013 | Highlander Research and Education Center | $1,626.30 |
| May 2013 | Feral Feline Friends of East Tennessee | $2,936.92 |
| April 2013 | Ladies of Charity Food Pantry |  $1,578.10 |
| March 2013 | Friends of the Knox County Library |  $495.71 |
| February 2013 | InterFaith Health Clinic |  $1,728.95 |
| January 2013 | FISH Hospitality Pantries |  $724.16 |
| December 2012 | Columbus Home Children's Emergency Shelter | $1,480.86 |
| November 2012 | New Orleans Food Co-op | $673.11 |
| October 2012 | Helping Hands at St. James Church | $1,750.37 |
| September 2012 | Young-Williams Animal Center Spay/Neuter Program | $1,322.20 |
| August 2012 | Remote Area Medical (RAM) | $1,931.80 |
| July 2012 | Knox Heritage | $1,198.02 |
| April 2012 | Legacy Parks Foundation | $1,000.00 |