Thanksgiving HQ!
Three Rivers Market has everything you need to have a fresh, wholesome, and healthy Thanksgiving. Here in one convenient place is a list of everything you need to know about our Thanksgiving offerings.
Traditional Centerpieces
Three Rivers Market is offering a variety of turkeys and hams to create a stunning centerpiece. Choose from in-store options or reserve select turkeys today. Orders will be accepted through Tuesday, November 19th.
Contact Customer Service to reserve your turkey today!
In store: 1100 N. Central Street, Knoxville, TN 37917
By phone: 865-525-2069
By email: customerservice@threeriversmarket.coop
Turkey & ham options below.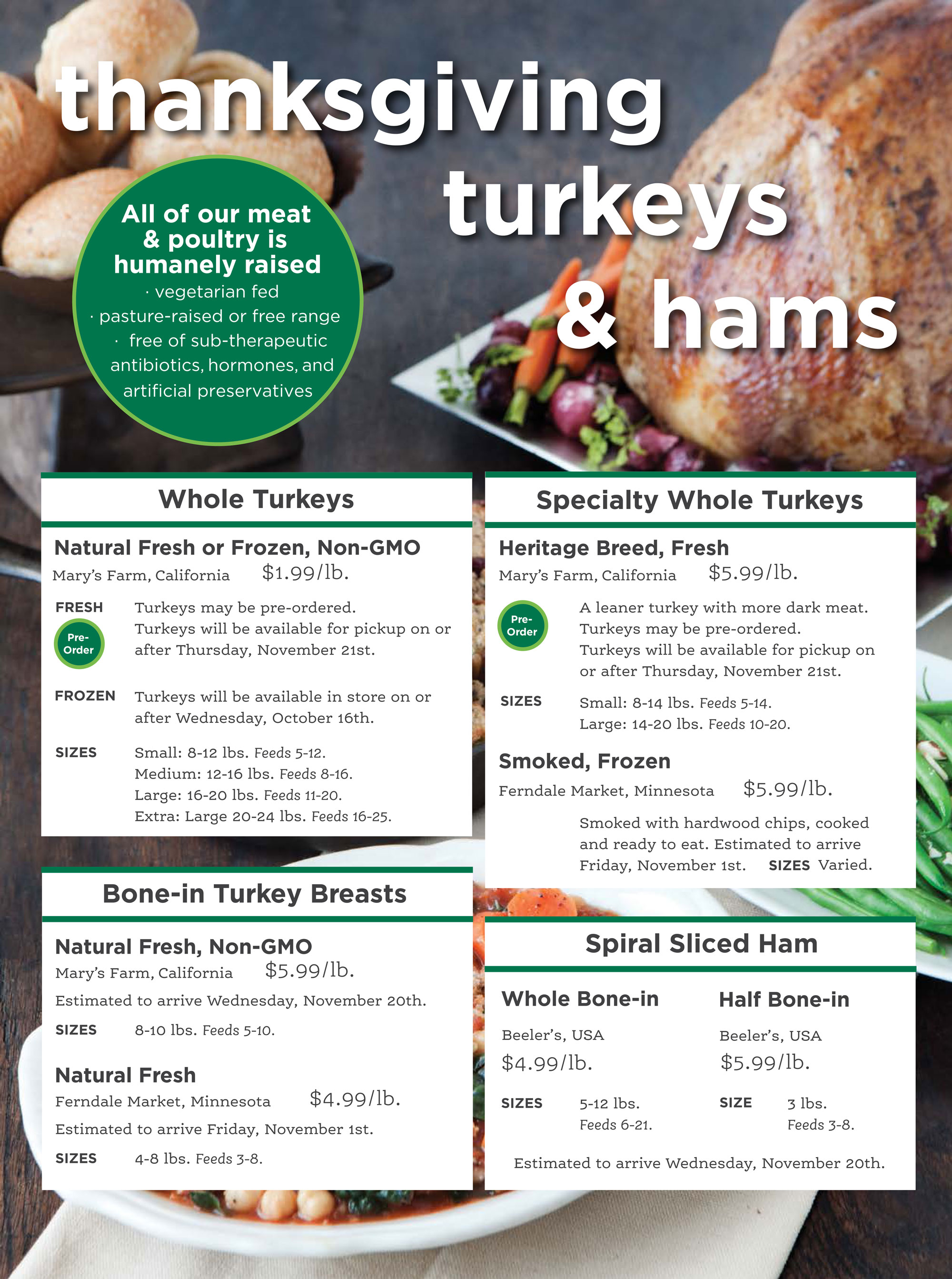 Meatless Centerpieces
Whether cooking for a crowd or a select guest, we have Thanksgiving centerpieces to ensure that everyone's holiday plate is full: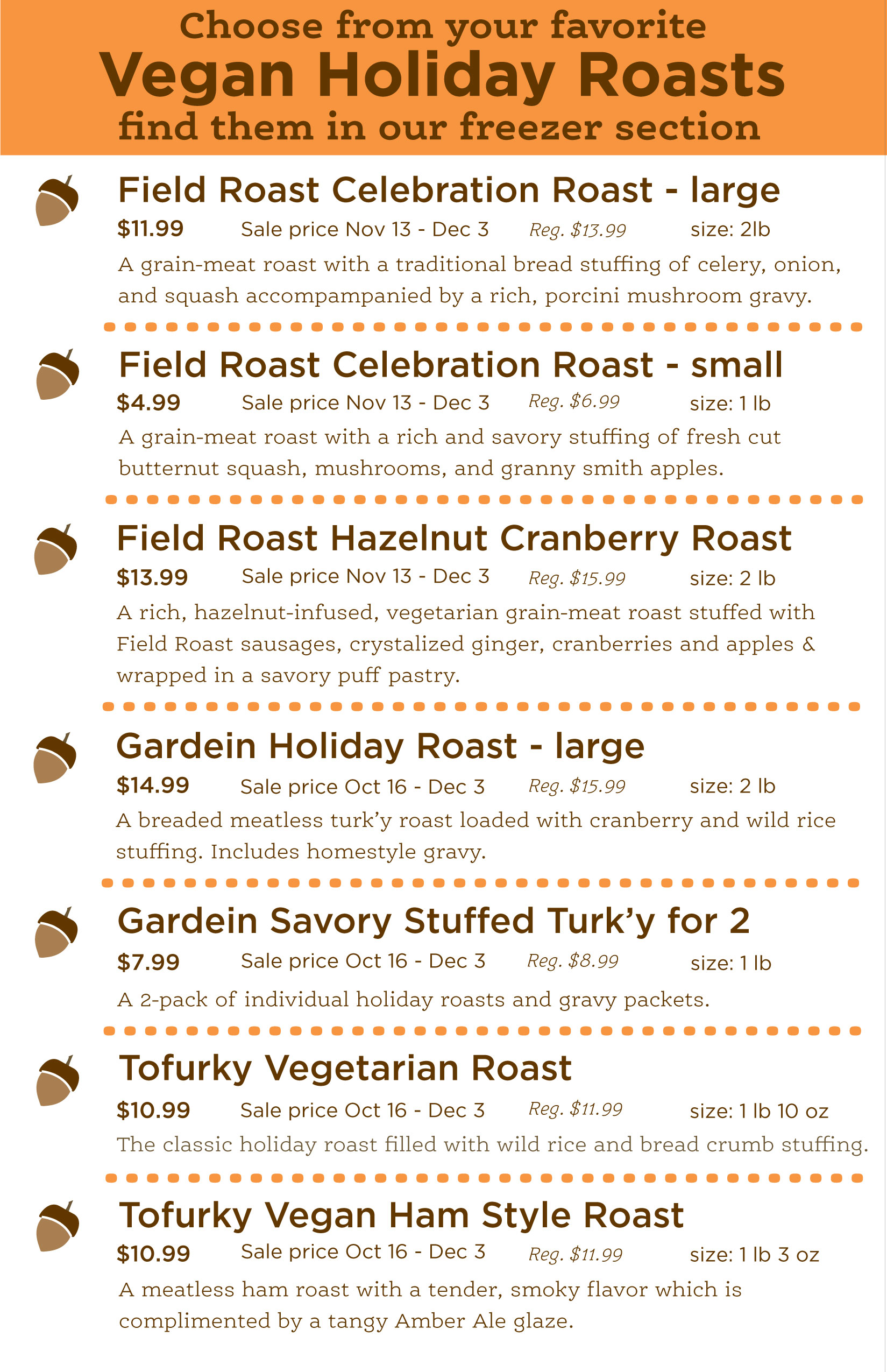 Thanksgiving Sides
Our Deli works hard for the holidays so you don't have to! Select from a wide-array of made in-house Thanksgiving sides that will suit a variety of dietary needs.
Pre-Orders
Place orders between November 4th – 25th
Minimum 5 lbs per item
Pickup date & time are per request with a minimum 48 hour notice.

How Much Should I Order?
Volume will vary from item to item, but an average measure is 1/4 lb = 1/2 cup.
Our minimum order of 5 lbs per item will provide approximately 10 cups of food.
Depending on your offerings, an average size for sides is 1/2 cup.
In-Store
Sides will be available in-store, in a variety of sizes starting Tuesday, November 26th.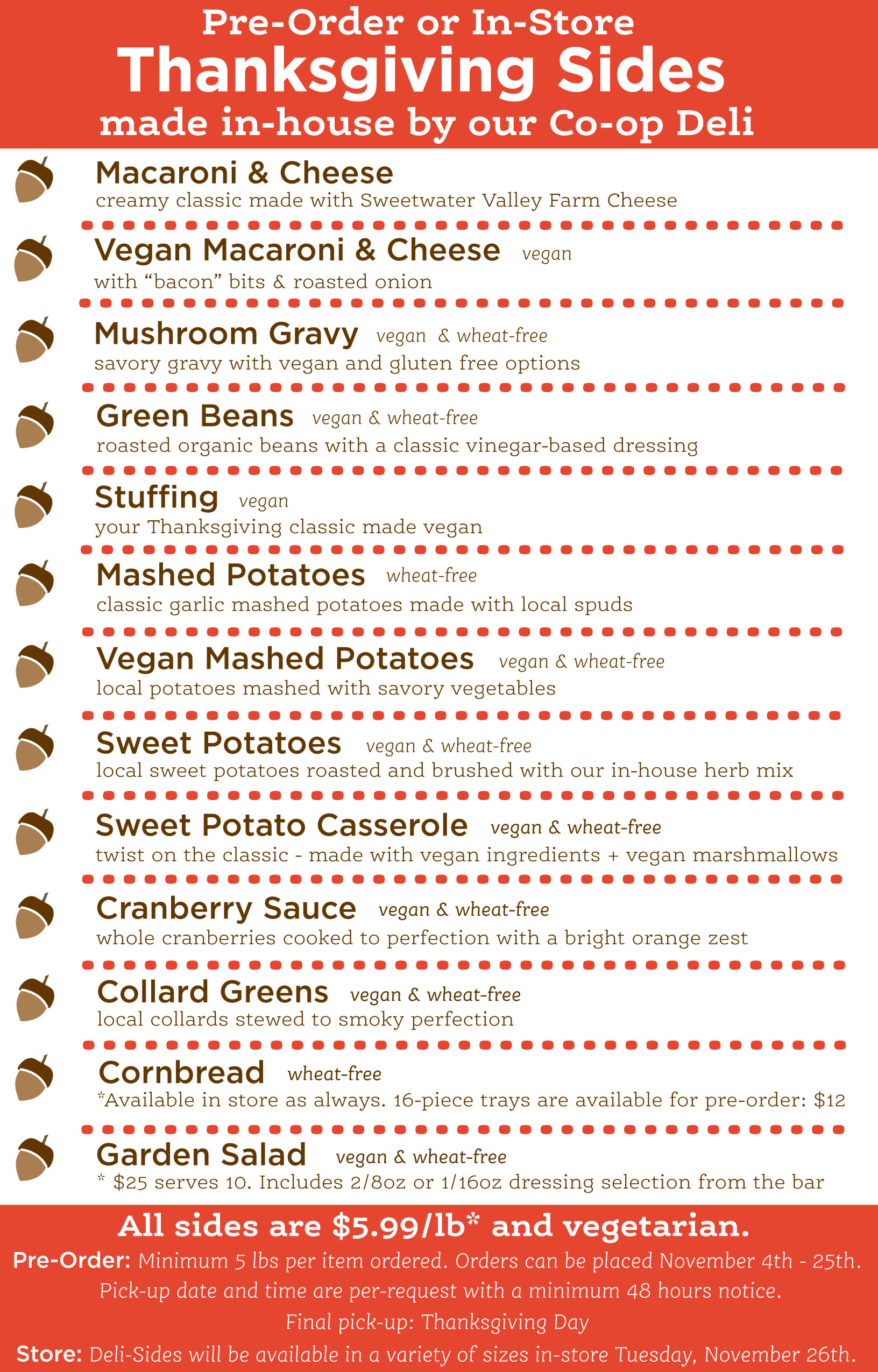 Desserts
What's a great dinner without dessert? You can always find your favorites, and stay tuned for specialty pies: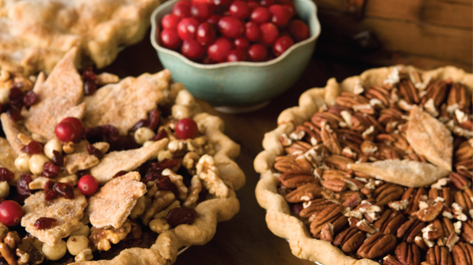 Willamette Valley Pie Company
Willamette Valley Pie Company is based in Oregon and offers a wide variety of all natural, non-GMO, and preservative free pies. Ingredients are sustainably sourced and Palm Done Right certified. These 8″ pies are pre-baked, ready to serve. Pumpkin and Apple Pies: $9.99, Pecan Pie: $10.99. Stay tuned for co-op delivery date.
Pumpkin Pie
Vegan Pumpkin Pie
Apple Pie
Pecan Pie
Magpies Bakery
Magpie's crew has been keeping Knoxville happy with delicious celebration -cakes, pies, cupcakes, and cookies since 2004. We're lucky to live just down the street from their shop. While you can find a variety of items at the co-op any day, you'll find a wide array of holiday offerings in-store on Monday, November 25th. Daily delivery of pies will occur all week until Thanksgiving day. Look for the following varieties (availability will vary), $10-$45.
Pumpkin Pie
Apple Pie
Pecan Pie
Cherry Pie
Cheesecakes
Cream Pies
Apple Stack Cake
Holiday Loaf
Benefit Your Life
Benefit Your Life is a gluten free market and bakery dedicated to helping people feel their best by providing them with a selection of top quality gluten free products and delicious baked goods. Their products are free from gluten, artificial colors, and harmful preservatives. Among their usual individually sized items, you will find an array of Gluten Free Pies during the week of Thanksgiving. All pies are 9″ and are $27.75.
Pumpkin Pie, GF
Pecan Pie, GF
Derby Pie, GF
Buttermilk Coconut Pie, GF
Free Reign Bakery
Free Reign Bakery is our newest local bakery addition! It's their mission to provide the best tasting baked goods which are free from the most common, Big 8, allergens. Free Reign Bakery sources certified gluten free ingredients and the baked goods are naturally vegan. It's their mission to create baked goods with the highest nutritional value possible. Pies will be available starting Thanksgiving week. Pies will serve 12 and are $28.
Pumpkin Pie, Vegan, GF
Apple Pie, Vegan, GF