Solar Solstice!
---
---
Join us to learn about solar energy, celebrate our new solar system, and enjoy our patio reopening on the Summer Solstice, Saturday, June 21!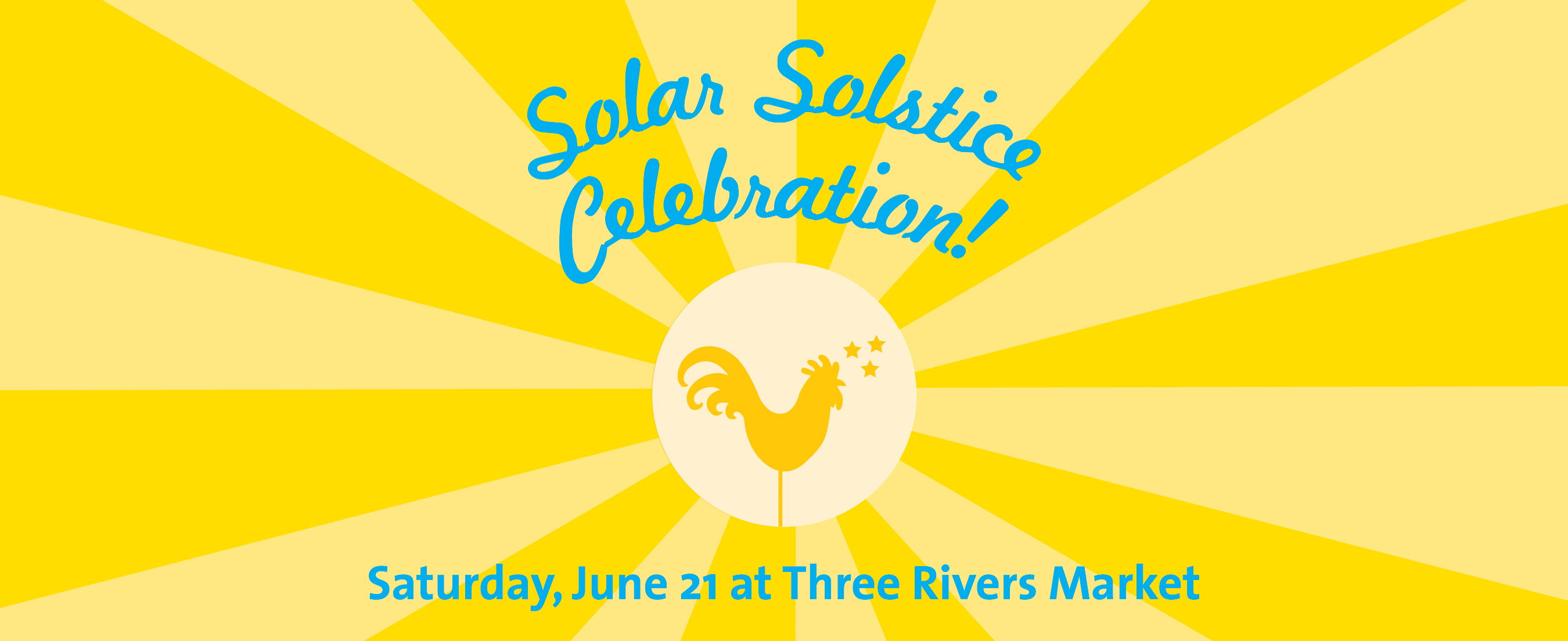 one-day deals!
9 am – 10  pm, in the store – Three Rivers Market members save 10% on these featured solar-powered brands:
All Produce! – Save 10% on our entire selection of fresh, organic produce, the ultimate sun-powered food!
Ecover – Ecover's green cleaning products are made in a green energy powered factory that also features a plant-covered roof.
Follow Your Heart – "Earth Island", Follow Your Heart's vegan food manufacturing facility, was designed with conservation in mind. Their 115-kW solar array often produces all of the energy they need to power their energy-efficient, environmentally friendly facility.
Frontier, Simply Organic, & Aura Cacia – Frontier Natural Products Co-op runs on 100% green power, and they offset 100% of the carbon generated from shipping, by purchasing renewable energy credits through Bonneville Environmental Foundation.
Kettle – Kettle's Northwest manufacturing facility's solar array produces enough green energy each year to make over 250,000 bags of potato chips, and their Midwest facility was the first LEED Gold Certified food manufacturing plant in the country!  Plus, all of their company vehicles run on biodiesel.
New Belgium – This Colorado brewery began purchasing 100% of its electricity from wind power in 1999 and installed a 200 kW solar array on their roof.  Today, 18% of their electricity is produced onsite through solar and biogas.
Organic Valley & Organic Prairie – CROPP, the parent cooperative of Organic Valley and Organic Prairie, practices sustainable energy use and production at their headquarters, and on their network of family farms.  Their 2-turbine wind farm produces 68% of the electricity used by their facilities, and they supplement the wind power with rooftop solar panels and transparent solar window at their headquarters.  CROPP's goal is to reach carbon-neutrality in their facilities by 2020.
Sequatchie Cove – Solar powered cheese!  This local farm and creamery has been producing clean energy since their 2011 solar system installation.
Stonyfield – In 2005, Stonyfield installed a solar array on their "Yogurt Works" roof, the largest in New Hampshire at the time.  Since then, they've built a new energy efficient office building, and have begun converting some of their trucks to biodiesel.
Sunbeam Candles – Sunbeam's candle-making facility runs on 100% green power, and their candles are shipped carbon neutral.  Their 3.5-kW rooftop solar array generates most of the electricity they need, and they purchase additional energy from 100% renewable resources.
Tofurky – Turtle Island Foods, parent company of Tofurky, powers their LEED Platinum Certified manufacturing facility with their 102-kW rooftop solar array.
West Wind Farms – This local Morgan County farm installed 120 solar panels on their dairy barn in 2012.
energy education!
12 noon – 3 pm, on the patio  – Tennessee's own ARiES Energy will be here to talk about our new solar system, and their work in making clean energy easy, accessible, and affordable.   Do you want to learn more about our solar system and other clean energy projects, or are you interested in installing a solar system on your home or business? Stop by and chat with these friendly folks!
Did you know that Knoxville is one of 25 Solar America Cities?  Jake Tisinger, of Knoxville's Office of Sustainability, will be here to tell you more about our city's efforts to promote sustainable energy production.
Find answers to frequently asked questions about our solar system here.
Freebies!
12 noon – 3 pm, on the patio –  While you're learning about solar energy, enjoy a free Magpies mini cupcake, in sun-inspired flavors!  Then, take home a free Solar Solstice t-shirt, available in kids' sizes too!  Cupcakes and t-shirts will be available while they last.
Enter to win an inflatable kayak, for fun in the sun all summer long!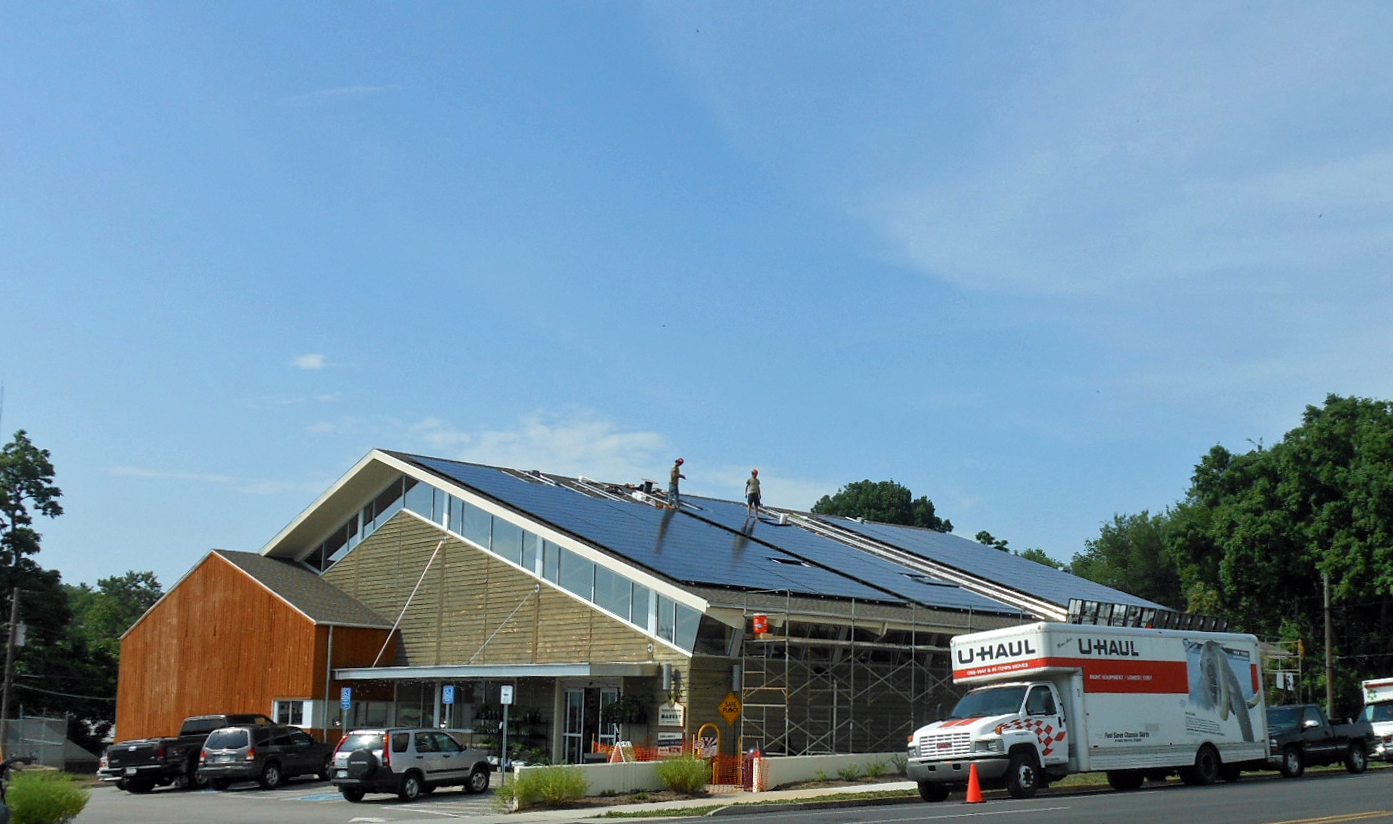 ---