Holiday Pies & Desserts
---
---
What's a great dinner without dessert? You can always find your favorites, and see below for specialty pies: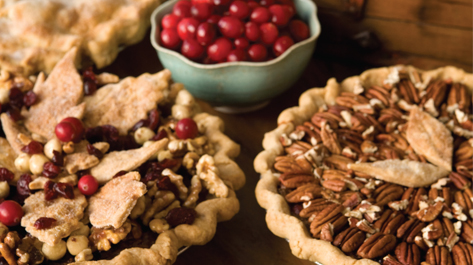 Willamette Valley Pie Company
Willamette Valley Pie Company is based in Oregon and offers a wide variety of all natural, non-GMO, and preservative free pies. Ingredients are sustainably sourced and Palm Done Right certified. These 8″ pies are pre-baked, ready to serve, and will be available in-store on Monday, November 19th!
Pumpkin Pie, $9.99
Apple Pie, $8.99
Pecan Pie, $11.99
Magpies Bakery
Magpie's crew has been keeping Knoxville happy with delicious celebration -cakes, pies, cupcakes, and cookies since 2004. We're lucky to live just down the street from their shop. While you can find a variety of items at the co-op any day, you'll find a wide array of holiday offerings in-store on Monday, November 19th. Daily delivery of pies will occur all week until Thanksgiving day. Look for the following varieties (availability will vary), $10-$45.
Pumpkin Pie
Apple Pie
Pecan Pie
Cherry Pie
Pumpkin Pie
Sweet Potato Pie
Cheesecakes
Cream Pies
Apple Stack Cake
Holiday Loaf
Specialty Pies
Everyone deserves dessert! Check for these specialty pies in our freezer case starting Friday, November 16th.
Daiya Vegan Pumpkin Spice Cheezecake, $6.99
Katz Gluten Free Pumpkin Pie, $5.99
Katz Gluten Free Apple Pie, $5.99
---